A report of a recent survey by ExoMars (Exobiology on Mars) indicates that Mars is rapidly drying out. ExoMars (Exobiology on Mars) has published it collecting all the data from its previous observations. What it informs will really sadden you.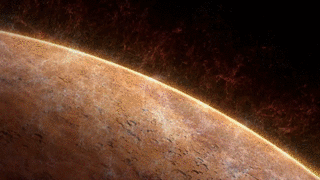 The scientists of Centre National de la Recherche Scientifique, CNRS which is The French National Center for Scientific Research have seen that the sunlight and other chemicals together split the molecules of water into the atoms of Hydrogen and oxygen. And the week gravity of Mars cannot resist the water molecules from evaporating in the space. As a result of it, water vapour in an unexpected ratio is gathering at the height of 80Km of the martian atmosphere.
Even the atmospherical layers of mars exist in such an odd situation where, at a particular temperature, they contain the water vapour 10 to 100 times more than the receptivity. So, we can say that Mars is drying out rapidly. However, even today, scientists are on two opposite sides whether there is really water in Mars or not!
On the other side, research published in American Geophysical Union Journal Research Letters shows that the water exists on the polar regions of Mars 1 inch down to the surface. Actually, water cannot sustain on the surface much longer due to Mars's very low atmospheric pressure. Soon water transforms its form liquid to gas and starts to evaporate.