Krishna Janmashtami 2022:
Celebrations for Krishna Janmashtami 2022 will take place all over India on August 18 and 19. The birth of Lord Krishna is celebrated at the annual Hindu festival. The festival of Janmashtami is observed throughout the country on the eighth day of the dark fortnight that occurs during the Hindu month of Bhadrapada, which occurs between the months of July and August. Janmashtami is the celebration of the birthday of Lord Krishna, who was born on that day. It is observed with a great deal of grandeur. This day is also referred to as Gokulashtami and Krishna Janmashtami.
Janmashtami 2022 Date:
The 18th and 19th of August, 2022 will be dedicated to the celebration of Krishna Janmashtami. Celebrations of Krishna Janmashtami, which will start on the Ashtami Tithi and honor the birth of Lord Krishna, the eighth incarnation of Lord Vishnu, will get underway on that day. In addition, the Ashtami Tithi will begin at 9.20 pm on August 18, 2022, and will continue until 10.59 pm on August 19, 2022.
Janmashtami 2022 Shubh mahurat:
According to the English calendar, there is no particular day for the celebration of Janmashtami. In India, festivities take place on the eighth day of the Bhadrapada month. The Nishita Puja is considered to be the most significant of all of the pujas that take place on Krishna Janmashtami. During this puja, an idol of Balkrishna is worshipped while it is swung from a swing. The Nishita Puja will be held from 12:12 am till 12:58 am on August 19, 2022, in honor of Krishna Janmashtami.
Krishna Janmashtmi 2022: Significance and History
Krishna is the son of Devaki and Vasudeva Anakadundubhi. Members of the Gaudiya Vaishnavism sect in particular make a point to commemorate this auspicious day. Lord Krishna is revered as the Godhead in his capacity as the Supreme Personality. The circumstances surrounding Krishna's birth were very tense. It was a period when evil was all around, freedom was restricted, and his uncle King Kansa wanted to stop endangering his life by threatening it. All of these things were happening at the same time. According to legend, shortly after Krishna was born in Mathura, his biological father, Vasudeva Anakadundubhi, carried him across the Yamuna to Nanda and Yashoda, Krishna's foster parents, who lived in Gokul at the time.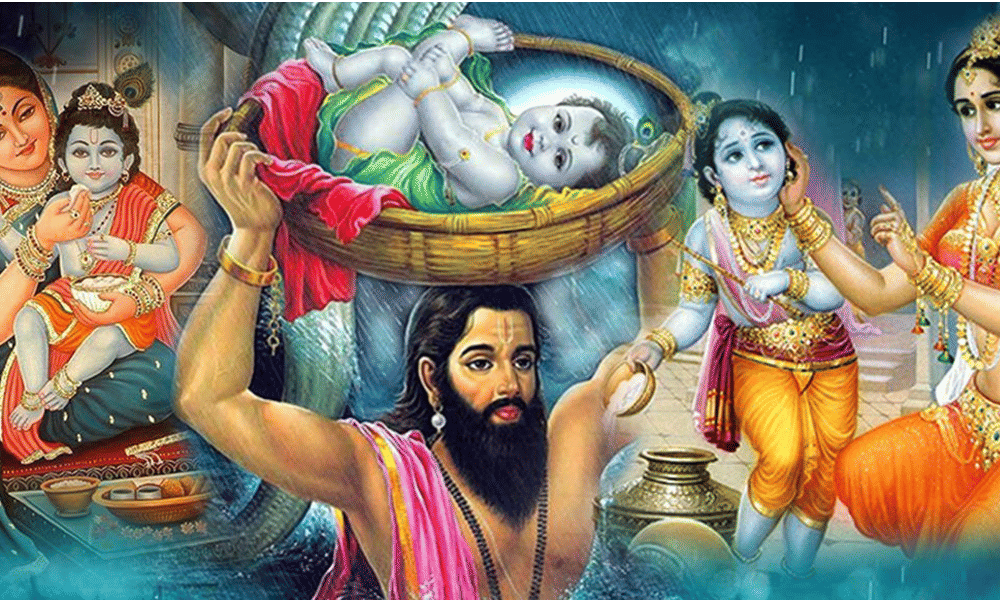 Vrindavan was Krishna's childhood home, where he developed his goofy personality and fondness for butter (Makhan). A lot of the women of Vrindavan used to tie their butter pots at great heights so that the mischievous yet enticing youngster Krishna wouldn't steal their butter and use it for his own purposes. This was done so that Krishna wouldn't steal their butter. However, this did not prevent the young boy known as "Makhan chor," because Lord Krishna and his associates would create human pyramids to climb to the top of the mountain and grab the butter. This adorable yet naughty deed serves as the foundation of the modern-day Dahi Handi celebrations, which are an essential component of the festivities.
Krishna Janmashtami 2022 Special Food:
On this happy occasion, a variety of mouthwatering treats are prepared and presented as offerings to Lord Krishna. This is a list of the top twenty Janmashtami special foods, each of which can be offered as Bhog to Lord Krishna and savored throughout this festival with the people you hold dearest.
Gopalkala
Makhane Ki Kheer
Shrikhand
Makhan Mishri
Panchamrit
Rava Ladoo
Sabudana Khichdi
Singhare Ki Poori
Rajgira Paratha
Rajgira Sheera
Lauki Ki Kheer
Papite Ka Halwa
Sabudana Tikki
Dhaniya Panjiri
Kuttu Ki Khichdi
Vrat Ke Jeera Aloo
Badam Ka Halwa
Gulab Jamun
Kand Aloo Pakoda
Sweet Potato Rabdi
Janmashtami 2022 Vrat: Dos and Don'ts of fasting
Help the poor who are in need by giving them food and drink. On such a joyous day as Janmashtami, performing a selfless deed like this can only bring you more blessings.
If you are not participating in the Nirjala fast (which involves abstaining from both food and water), you are allowed to have Vrat ka Khana such as Sabudana papad, khichdi, and fresh or dried fruits. This will assist in maintaining the body's level of energy and vitality.
You can also read:
Janmashtami would not be complete without the consumption of milk and curd. In addition to beverages made from fresh fruit, you should have lassi even if you are not participating in a nirjala fast.
On this day, you should avoid consuming or preparing food that contains onions or garlic.
On the day of Janmashtami, you should avoid having anything that is not vegetarian because the vast majority of Hindu celebrations involve eating vegetarian cuisine and fruits.